Company Awards
Waterloo Area's Top Employers
2011-2019
This award exemplifies our ongoing commitment to establishing the best possible work environment for employees.
A variety of onsite amenities, the support for employees in sustaining a positive work-life balance, ongoing employee development programs, great financial benefits, and a company-subsidized social committee were highlighted as the primary contributing factors in D2L's selection as one of the Waterloo Area's Top Employers for the ninth consecutive year.

Canada's Best Employers for Recent Graduates
2019
D2L was selected for The Career Directory, a guide to entry-level recruitment for recent college and university graduates.
The Career Directory is Canada's longest-running career guide for new graduates. Highlights for new graduates at D2L include various training opportunities, tuition subsidies (related to the job), a wide variety of new grad positions and various work benefits.

Canada's Best Managed Companies
2013-2018
D2L was selected by Deloitte as a Gold Standard winner for maintaining our Best Managed status, successfully retaining our award for 4-6 consecutive years.
D2L was selected by Deloitte as one recipient of the award given to fifty Canadian organizations that demonstrate vision, passion, and achievement on a daily basis. Our overall business performance, sustained growth, and continuing efforts to enable to the transformation of learning were cited as major factors in receiving such a prestigious honor.

Top Canadian Employer for Young People
2012-2014, 2018
This special designation recognizes the employers that offer the nation's best workplaces and programs for young people just starting their careers.
The selection of D2L as one of Canada's Top Employers for Young People was based on our engaging and progressive corporate culture, the extensive social events and opportunities conducted by our staff, and the inclusive ways we work with students to offer a valuable internship experience.

Canada's Most Admired Corporate Cultures – Mid Market
2017
D2L is among ten mid-market corporations awarded for their commitment to culture.
This national program, now in its 14th year, annually recognizes best-in-class Canadian organizations for having cultures that have helped them enhance performance and sustain a competitive advantage.

Platinum Level Award
2016 & 2017
This award recognizes and celebrates workplaces in Waterloo Region who demonstrate a strong commitment to improved health for their employees.
D2L encourages and supports the health and well-being of our employees. At D2L, we believe a healthy workplace leads engaged employees which contributes to a more effective and productive company!
Sustainable Waterloo Region's Leadership & Innovation Award
2014
D2L received the award for our higher than average record of providing alternative commuting support through the TravelWise program.
This award recognizes an organization that has demonstrated a strong commitment to—and creative solutions for—encouraging alternative transportation for employees. We were also recognized for our Eco Plan that rewards our Waterloo Region employees who turn in their parking pass.

EY Entrepreneur of the Year
2013
In 2013, D2L CEO John Baker was recognized as Ontario's Entrepreneur of the Year in the Software and Technology category.
The EY Entrepreneur of the Year program celebrates the contributions and spirit of entrepreneurs everywhere. The Canadian program honours the country's most impressive entrepreneurs from all areas of business. Award finalists are chosen based on their vision, leadership, financial success and social responsibility.

Best 50 Small and Medium Employers in Canada
2010-2012
Recognized three years in a row, this is a particularly important award for us as employee opinion is the predominant factor in determining an organization's overall score.

Greater Kitchener-Waterloo Chamber of Commerce Business of the Year
2012
This award recognizes an organization that makes an exceptional contribution to the business community through involvement and leadership while also acting as a role model in the community.

Association of Marketing & Communication Professionals Platinum MarCom Award
2007–2010
D2L has received the award for four consecutive years (2007–2010) in recognition of conference material and special event plans for our annual users' conference.
The prestigious MarCom Platinum Award is presented to those entries judged to be among the most outstanding entries in the Association of Marketing & Communication Professionals (AMCP) competition. Platinum winners are recognized for their excellence in terms of quality, creativity, attention to detail, and resourcefulness. Winning a MarCom Award gives recognition to the creative talent, firms, departments, and/or clients that collaborate on outstanding marketing and communication projects.

Junior Achievement Business of the Year Award (2011)
2011
The Business of the Year Award recognizes a company that is outstanding in all areas of business with a history of leading-edge marketing strategies, supporting youth throughout the community, exceptional corporate citizenship, and high quality standards.

Deloitte Technology Fast 50™ Leadership Award
2011
Candidates are judged on their ability to create a distinct competitive advantage in a high growth market.
A panel of subject matter experts evaluates companies based on several key criteria: competitive advantage, size, growth, market attractiveness, management effectiveness and organization, and financial performance.

Product and Technology Awards
Annual Best of Elearning! Awards
Best Learning Management System – Cloud
These awards honor best-in-class solutions across the learning and technology marketplace.
As the industry's exclusive users'-choice awards, all nominations are made directly by users of solutions. D2L was chosen as the winner of the Best Learning Management System – Cloud category for its Instructional Design Wizard, TurnItIn integration and flexible course delivery options.

Training Magazine's Learning
Design Challenge 2016
Silver Award, D2L, Brightspace Gamification
Silver Award, D2L Analytics Suite
Training magazine awards Learning and Development professionals for their best practices in eLearning.
D2L was chosen as a winner for its innovative Learning Analytics and Gamification offerings.

IMS Global Learning Consortium
Learning Impact Awards
Platinum Medal, D2L Degree Compass
The Learning Impact Awards recognize the most impactful use of technology in support of learning worldwide.
Each year, the IMS Executive Strategic Council selects award finalists by identifying examples of products and services that address the most significant challenges facing global education. D2L is a two-time Platinum Winner, recognized for its work with NYCDOE and Degree Compass.

National Federation of the Blind
Nonvisual Accessibility (NVA)
Gold Level Web Certification
The National Federation of the Blind (NFB), one of the world's leading advocates for Internet access by blind Americans, has now twice (2010 and 2011) awarded the Gold Level NFB-NVA Certification to D2L for D2L Learning Environment.
We have made a pledge to support the National Federation of the Blind's (NFB) Nonvisual Web Accessibility program. Through this program, we aim to demonstrate our ongoing commitment to annually test and certify D2L Learning Environment against the NFB's Goald Level Nonvisual Access standards, reflecting our belief in building inclusive design into its research and development practices.

Dr. Jacob Bolotin Award
Accessibility
In 2013, D2L received the Dr. Jacob Bolotin Award from the National Federation of the Blind for its groundbreaking work in accessibility.
Specifically, this award is given to organizations and individuals who have made impactful contributions toward achieving the full integration of the blind into society on a basis of equality.

Ovum
Ovum "On The Radar" Award
For delivering an analytics solution that helps institutions develop meaningful insights from educational data, D2L was selected by Ovum as a winner of the first annual "On The Radar" Customer Award.
The Big Data category, in which we were recognized, profiles organizations that have created new products, services, or processes to address previously unsolved challenges with an innovative approach.

EdTech Digest Awards
Leadership Award
The EdTech Digest Awards recognize technologies, trendsetters, and leaders throughout the education sector for their innovative contributions.
As part of the 2013 EdTech Digest Awards program, D2L was chosen as a winner for its outstanding solutions in the field of education and technology.

Microsoft
U.S. PUBLIC SECTOR PARTNER OF THE YEAR
D2L was awarded the U.S. Education Solution Partner of the Year award in 2011 and 2012.
The award recognizes a partner that excels at providing innovative and unique solutions based on Microsoft technologies to education customers. As an industry-leading SaaS solution for education, we were recognized for exemplifying how innovative solutions can be delivered by embracing Microsoft technologies to deliver D2L Learning Suite, a robust cloud, hybrid and on-premise solution for education.

Brandon Hall Learning Technology Award
Gold Medal, Learning Analytics
D2L received a 2010 Brandon Hall Gold Medal award for technology excellence in the Best Advance in Technology in Learning Analytics or Reporting category.
The Brandon Hall Excellence in Learning Technology Awards are presented by Brandon Hall Group, a leading research firm in training and development. The Learning Technology Awards program showcases product innovations for their creation and management of learning, talent, and performance.
The Best Advance in Technology for Learning Analytics or Reporting category, specifically, looks for functionality related to collecting learning data, querying data, creating reports, visualizing data, and comparing variables and data sets. The role of the technology in helping administrators make sense of data and understand the effectiveness of their learning services is a key criterion of the award.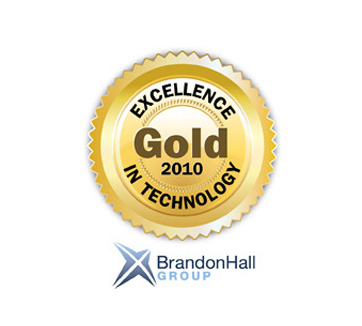 IMS 2010
1st Place for Learning Management Systems
D2L was the recipient of 1st Place for Learning Management Systems, a Best in Category Award for Learning Management that was based on the results of the 2010 IMS Learning and Education Technology Satisfaction and Trends (LearnSAT) survey.
The LearnSAT report, and underlying research, is conducted to provide level of satisfaction information in the use of technology to support teaching and learning to a new and rapidly evolving marketplace. Through the LearnSAT report, those responsible for implementing and supporting solutions can provide additional information about the level of satisfaction expressed by current clients to supplement the information supplied by vendors.