The Leading Mobile Learning Experience
Welcome to the next-generation mobile learning experience—learning that works for today's modern learner. The D2L Brightspace platform's mobile experience is designed to help maximize productivity for people on the go while providing a complete learning experience that can work on any device. Staying connected to learning has never been so convenient and engaging!
Mobile apps that ignite learning on the go
Our mobile apps were created based on hundreds of design sessions with users to help students and instructors be more productive. They're optimized to make it easy to complete the tasks that people want to tackle quickly while on the go, and as our app ratings show, our users love them!
Students can see what's up next in class, check grades, and review content. If users are looking to do more, they can launch into the full experience from their phone without having to sign in again. D2L Brightspace is optimized to display beautifully on any screen size, there are no sacrifices when users are accessing Brightspace from a phone.
An App That Students Love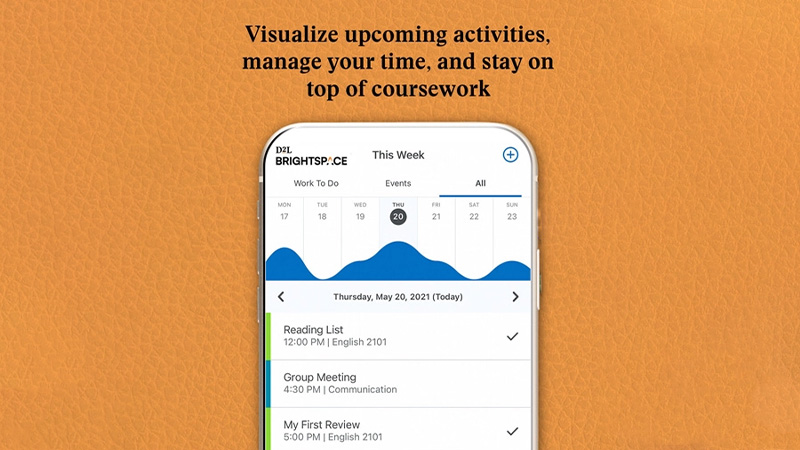 Visualize Upcoming Activites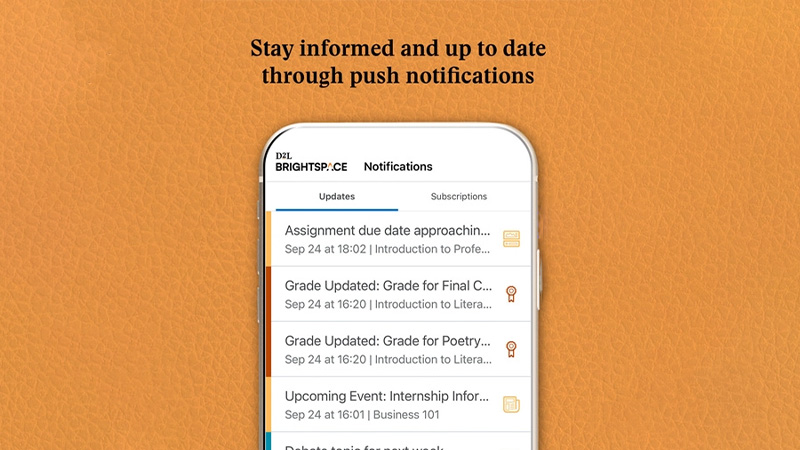 Stay Informed
View Grades and Feedback
Visualize Upcoming Activites
Brightspace Pulse makes it fun and easy for learners to stay connected and on top of coursework. With a visual to show upcoming activities, learners can use Brightspace Pulse to better manage their time during the week. They can track upcoming assignments, access course content, stay on top of notifications for new discussion posts, be notified of upcoming quizzes, access grades, and view their course activity feed.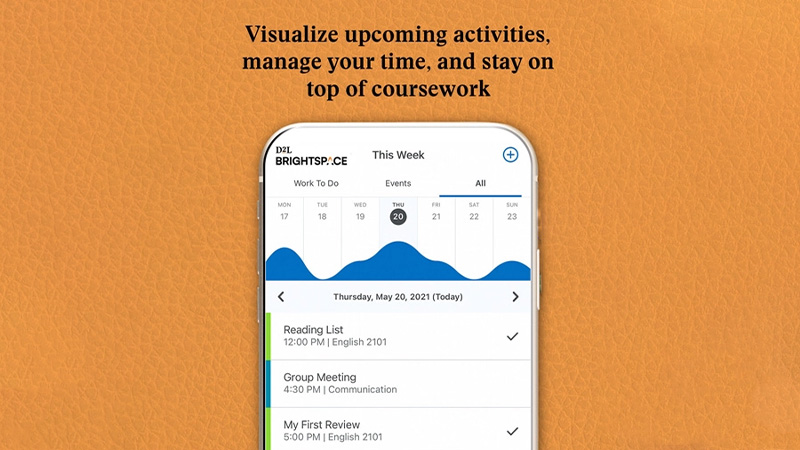 Stay Informed
It's easy to stay informed and up to date with app notifications for new content and upcoming due dates, an activity feed of course announcements, and active discussions that the student is following. Students can also review non-HTML course content off-line, allowing them to study anywhere, anytime.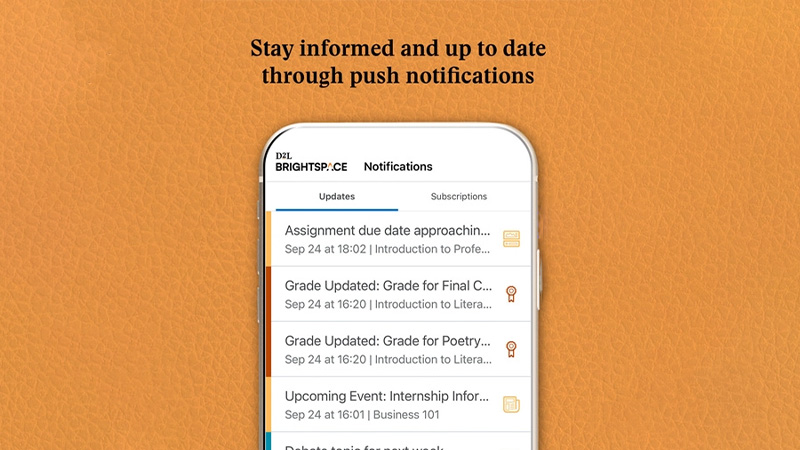 View Grades and Feedback
We connected with students on campuses to find out what matters to them the most, and we designed Brightspace Pulse with a growth mindset to reduce anxiety and build confidence by providing friendly feedback and messages.
The calendar tab has saved me so many times. It's so much more convenient than going through each class. Google User (September 7, 2021)
I am doing courses based in two universities. This app really helped in keeping me on track and not missing deadlines. Apple User (June 10, 2021)
Anything that happens on D2L shows up on my phone! I haven't missed a due date since I downloaded this app! Apple User (May 19, 2021)
Absolutely necessary when working with lots of due dates for school on D2L. It simplifies it all down and shows your workload on a graph, and the notifications mean you don't miss due dates! Google User (February 5, 2021)
An App That Empowers Parents, Guardians, and Families
The Brightspace Parent & Guardian App helps students' home communities stay connected and engaged throughout a child's learning. With information from some of the most popular tools in D2L Brightspace, such as the Work to Do widget, you can view Assignments, Discussions, Quizzes, Surveys, and Checklists that have an upcoming or past due date. Assignments and Discussions can also be opened to reveal more details. The mobile app gives parents, guardians, caregivers, and families a window into the classroom in the palm of their hand.
This app acts as a one-stop shop for parents and guardians with multiple students in the same school district with a single login. It can keep them on top of their students' coursework through push notifications. Parents, guardians, and families can have the information they need to help their children reach their potential.
Provide the important information parents, guardians, caregivers, and families need with the Brightspace Parent & Guardian mobile app.
Uncompromised learning that can work on any device
Our mobile apps were created based on hundreds of design sessions with users to help students and instructors stay on track. You work hard to deliver a world-class learning experience—don't let your technology compromise that work. Once someone is ready to dive in, they will have complete access to anything in D2L Brightspace no matter what device they are on, without being tethered to a desktop. D2L Brightspace adapts to the screen size by using responsive design–the same modern web design that industry leaders use.
Some platforms may claim they are mobile-friendly, but you can only access parts of the site on a mobile phone. D2L Brightspace adapts automatically to fit the screen of the device being used without compromising the learning experience. The same experience across multiple devices can mean faster and easier adoption and usage for you and your learners.
Optimized and intuitive workflows
We've developed our workflows to deliver an optimized user experience. We designed D2L Brightspace for mobile first and expand it out for a desktop experience, and our design automatically adapts to you based on the device you're using. The guiding principle here is that workflows are simplified at their core since they're designed with mobile in mind—making them even more efficient when you're working on a larger screen.
Accessibility is one of our core design components
Accessibility is at the integral center of our development and design and overall approach to usability. It's not just a checkbox, but a prioritized component foundational to what we deliver. Accessibility is incorporated into D2L's entire development process, and we design features to support Universal Design for Learning (UDL) to help make sure disabilities do not pose an obstacle to learning. We also complete usability testing with users with different disabilities through industry leaders Fable Tech Labs.
Progressive disclosure: intuitive without compromising depth
Frequently used features are available up front to keep things simple and easy to use, with more advanced features just a click away. Spend less time supporting new users while making sure power users have access to the advanced features they need. The D2L Brightspace platform delivers the best of both worlds by helping make it easier to get started, without compromising the ability to access advanced features.
Hear What Our Customers Have to Say
The user experience is so much better. When D2L claims that Brightspace works on all modern web browsers, it's actually true! René-Jean Aubé Technical Analyst, CCNB
With the outbreak and government intervention to enforce working and learning from home with not much time to prepare, I can't tell (you) how much the "Pulse" App saved us especially since many of our students are vulnerable youth or refugees and may not have a computer at home. They have been relying on their mobile to access the virtual classes. Shatha Naser Chief Information Officer, Luminus Education
We also wanted to look better, more like the experience users get on Amazon. D2L could get us there the fastest. Matthew Thornton Associate Vice President, Student Technology Experience, Southern New Hampshire University
It is clean, modern, responsive and tablet-friendly. It is what people expect today. We think it helped with adoption. Michel Marcheterre Former Manager of Learning Technology Systems and Network, uOttawa
Better mobile experiences for you and your learners
Some LMS vendors don't support a great mobile experience. For us, that just doesn't deliver on what our customers need. The D2L Brightspace platform gives you an optimal viewing and interactive experience on almost any device.
Consistent desktop and mobile experiences
Whether you're coming from a desktop or a mobile device, you will always receive a similar experience that has been optimized for your screen size.
No horizontal scrolling or pinch and zoom
We know it's annoying―and if it's scrolling horizontally, it isn't designed for mobile.
Helping you reach every learner
No matter what device students have or can afford, they can have the same user-friendly access to learning through mobile browsers, which can help remove potential barriers to education.
Delivering new features faster, better, and smarter
Our single, mobile-optimized platform allows us to build once to deliver innovation, updates, and improvements faster to our customers. We're not creating two different experiences—mobile first is our standard design.
Audio and video capabilities
Upload audio and video right from your phone!