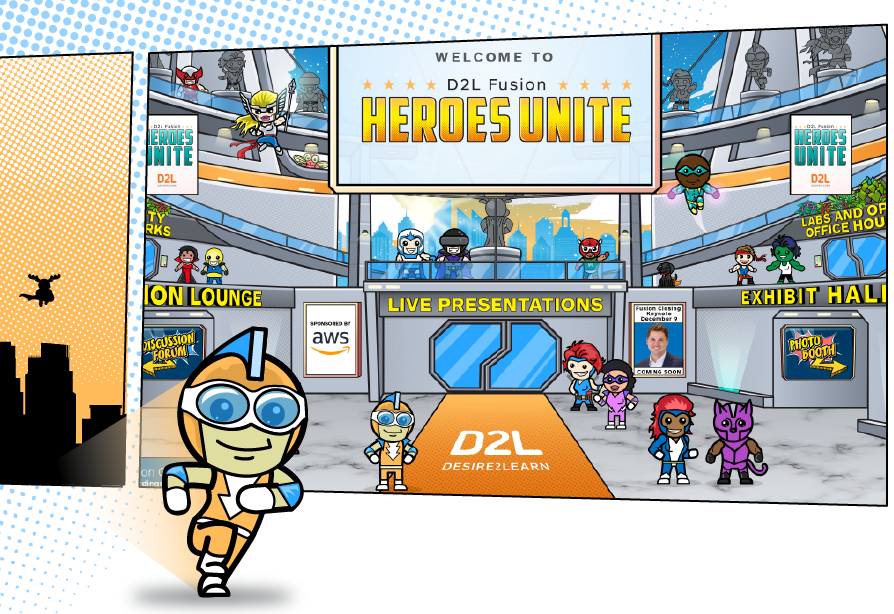 D2L Fusion 2020
November Recap
Along with the rest of our virtual program, our fifth month of Fusion 2020 brought together the best in learning innovation with inspiring speakers, engaging sessions, and amazing technology.
Relive the action
Fusion Day 13
Monday, November 16
Our fifth month of Fusion began with a day dedicated entirely to instruction and design. We kicked off the sixth of our 10 Affinity Network groups at the Digital Learning Design Meet and Greet, where like-minded heroes joined forces to explore new design strategies. The day closed with engaging customer-led sessions that took our heroes' instructional design skills to new heights.
Fusion Day 14
Tuesday, November 17
Our fourteenth day of Fusion was all about course and program development. Some of our inspiring customers and partners joined D2L development experts to present solutions for our heroes to boost the engagement of their online courses. We also kicked off our seventh Affinity Network group at the Course Quality Improvement Meet and Greet.
Fusion Day 15
Wednesday, November 18
Our fifth month of Fusion wrapped up with a focus on leadership and strategy. Our incredible customers and D2L experts covered topics from delivering effective professional development to reimagining the online experience for all learners. We also hosted the last qualifying round of our Superpower Spotlight talent competition before the big finale in December!